12 Dec

How Much Does a Personal Trainer Earn?
Personal Training Industry Growth
Over the past few years, the Personal Trainer (PT) industry has rapidly grown in Australia. Fuelled by rising obesity rates and a general growing awareness and interest in fitness, health and well-being, Australians are increasingly turning to personal trainers to get in better physical shape and start living a healthier lifestyle. This in-demand service has resulted in the PT industry becoming one of the fastest-growing careers in the country, which makes personal training professionals highly sought after across multiple sectors. What's even more appealing is that this demand is expected to keep growing at an unprecedented rate. Research by IBIS World indicates that fitness industry revenues in Australia have been steadily growing over the past 5 years. This trend will reach an estimated $2.4 billion value by 2022/23 – a forecasted annual growth of 1.8% (IBISWorld, 2018).

Fitness Participation Rates & Rising Health Consciousness
Health consciousness continues to grow amongst Australians across various age groups. Data gathered by the Australian Bureau of Statistics (ABS) indicates that fitness/gym activities were the second most popular activities engaged in by Australians. Over the past decade, these participation rates in fitness/gym activities have increased from 12.6% to 17.1% and 17.4% in 2005-06, 2011-12 and 2013-14, respectively (source: www.fitness.org.au ).
So, why are we seeing increasing fitness participation rates and why are they projected to continue growing? Well, a contributing factor is that Australia has one of the highest obesity rates in the world. Coupled with a growing older population, Australians are increasingly recognising the benefits of regular exercise and its positive effects on general health and well-being. According to the Australian Institute of Health and Welfare, disease burden due to physical inactivity could be reduced by 26% if Australians participated in 30 minutes of exercise at least five days a week (source: www.health.gov.au). Given this relationship between physical activity and health, including obesity and the risk of chronic disease, it's no wonder that health consciousness is on the rise in Australia, as is the demand for fitness professionals.
Personal Trainer's Role
Whether avid fitness participants or newcomers to the world of exercise, many people are turning to personal trainers to receive individually-tailored, one-on-one fitness programs. These highly skilled fitness professionals take factors such as age, sex, individual needs, previous or existing injuries, medical conditions, and current health and fitness into account when developing and implementing a fitness regime. For the consumer, this specialised program is appealing because it is results-orientated, helping them achieve personal fitness goals and meet health needs. Furthermore, it also allows the PT to monitor a client's progress and continually adjust their exercise program to meet changing fitness level needs. Best of all, a PT can guide, educate, motivate and inspire clients to reach their set goals.
Employment Prospects for Personal Trainers
With this rise in health consciousness in Australia, personal trainers are in demand. With clients ranging from individuals looking to make lifestyle changes and improve their health to organisations wanting to promote team building, the potential for personal trainers to find work extends across multiple sectors. Generally speaking, there is no shortage of work in the personal training field. Labour market trends and employment projections regarding the personal training industry indicate that there was very strong growth over the past five years in the number of fitness instructors in Australia. This growth is predicted to continue over the next five years, with an estimated 23,000 job openings in Australia by 2022 due to workers leaving and new jobs being created in the fitness industry field (source: Joboutlook.gov.au.
Source: ABS Labour Force Survey, Department of Jobs and Small Business trend data to May 2017 and Department of Jobs and Small Business projections to 2022 (access at https://www.joboutlook.gov.au/Prospects ).
Even more appealing is that unemployment was below average in this area in 2017 and there are many opportunities to work part-time. Furthermore, full-time fitness industry professionals work around 38.4 hours per week compared to the all jobs average of 40.0 hours. For a further snapshot of the fitness instructor industry, see the information below:

(Source: https://www.joboutlook.gov.au/Fitness Instructors)
Overall, although work hours for personal trainers are based around their client's needs, they are generally more flexible than most 9 to 5 workplaces. And if that isn't appealing enough, the expected pay can also be very rewarding.
What does a Personal Trainer Typically Earn?
On average, a Personal Trainer in Australia earns around $27 per hour, amounting to $48,318 per year.
Source: PayScale Australia
However, there is a potential to earn an hourly rate as high as $66 per hour depending on a PT's experience and qualifications. For example, the average wage refers to a base salary in the field. By upskilling and specialising in areas such as strength and conditioning, health and nutrition, weight loss and rehabilitation, a PT can markedly increase their base salary. You can also further improve your earnings by keeping up-to-date with professional development and abreast of current best practice. According to PayScale Australia, personal trainer certification-related job satisfaction is also rated highly.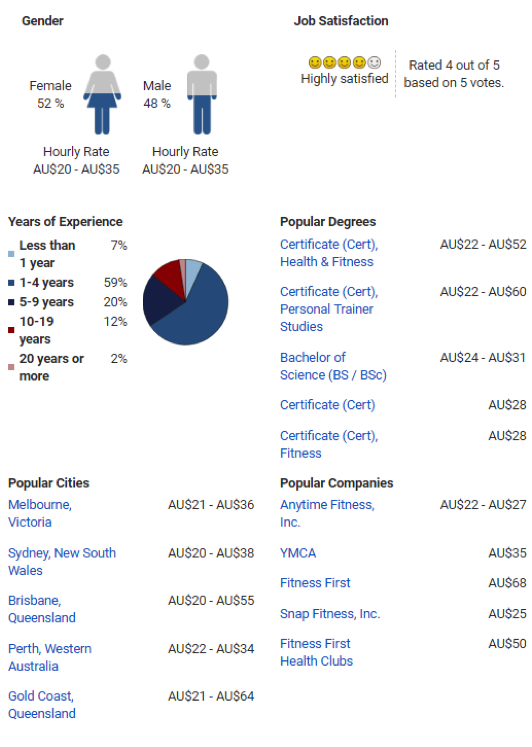 Source: PayScale Australia
What all this means is that beginning a career as a personal trainer will see you entering a growing field that has many current and future job opportunities and the potential to earn a great salary. So, if you are thinking of embarking on a new career in the fitness industry, not only can this be an exciting opportunity, but it can also be personally and financially rewarding.
ACFB – Helping You Become a Personal Trainer
If you are interested in health and fitness and have considered a career as a personal trainer, you've come to the right place. The Australian College of Fitness & Bodywork (ACFB) is dedicated to providing award-winning and nationally-accredited education and training in the fitness field. With its long and accredited history, ACFB has been helping students achieve their dreams of becoming a personal trainer since 1989. Honoured as the Department of Education's 2013 Victorian Small Training Provider of the Year, ACFB delivers a first-rate education. Our highly qualified and dedicated staff have many years of experience in the fitness and education industries, ensuring you learn about current best practice and industry standards from knowledgeable fitness professionals. Begin a new and rewarding career in personal training today. Contact ACFB on 1300 002 232 and our friendly staff can help you find the right Personal Trainer (PT) course to suit your needs.
Posted On 12/12/18