Online Personal Trainers (PT) Course
Certificate III & IV in Fitness Online
---
Don't waste another year in a job you don't love!
Begin your new career as a personal trainer and enrol at the award-winning ACFB.
---
There are many training providers offering online and on-campus Melbourne-based Personal Training courses, but can they offer accredited award-winning training with the industry's leading professionals? ACFB can.
Why is NOW an important time to study?
There has never been a more important time to think about how you are going to strengthen your future. Whether you are looking for an additional income or a new career, the possibilities a career as a Personal Trainer can provide are endless.
Start your training in this completely interactive method, see and engage with your trainers, access our industry leading training resources and receive the high level of support that ACFB is renowned for.
---
ACFB's online Personal Trainers course is industry leading, proven by our being voted a previous winner of the Victorian Small Training Provider of the Year. We provide a well-rounded curriculum with amazing training resources, ensuring our students learn about all aspects of fitness. And most importantly, you have a dedicated ACFB trainer to assist and guide you through your course!
Gaining your Personal Trainers qualification is a great step towards forging a new and rewarding career in the personal training industry, one that can help you make positive changes in your client's lives.
Want to know what you will be able to provide once you graduate from your Personal Trainers course? You will be able to:
plan and deliver personal training (PT) sessions
understand and safely apply the mechanics of stretching
motivate your clients to get the best out of them
use small business marketing techniques to earn money and manage a business
collaborate with medical and allied health professionals to develop advanced session plans
implement long-term exercise programming
conduct appraisals of functional movement
apply exercise science to PT sessions
deliver exercise programs that will help clients transform their body and achieve desired results
have a fundamental understanding of personal, strength, conditioning and endurance training
Training resources and support
Like with all good training, it needs to be comprehensive! We don't gloss over anything and we ensure you have detailed knowledge and skills in all aspects within your course – And this is what will set you apart in the industry!
We have designed an eLearning portal that is easy to use no matter what your computer skill level is. And you will have access to outstanding resources including detailed Course Workbooks, audio PowerPoints, recorded training sessions, over 160 Practical Training Films and much more.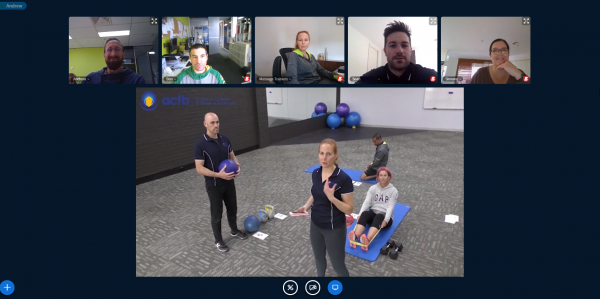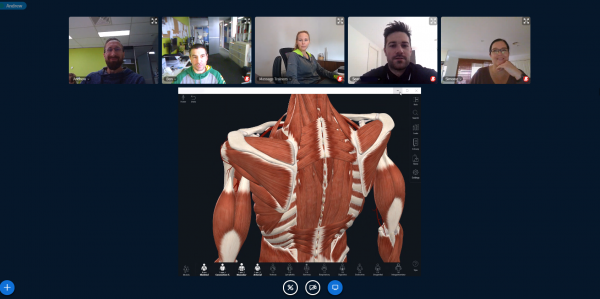 Your theory assessments are completed through your eLearning portal and your practical assessments are completed through a live Virtual Classroom or by submitting your filmed session.
And to support and guide you along the way will be your dedicated trainer who you will be able to engage with via phone, email and through live virtual practical sessions.
What else do you get?
You also receive 3 post-graduation workshops at no additional cost following your graduation to ensure you stay up-to-date with the latest research and advances in fitness training.
Click here to learn more about our post-graduation workshops.
Why choose ACFB?
ACFB has been providing detailed training for over 30 years and we are renowned for our personable training and support. Regards of your chosen study method, we ensure all students graduate at the same level and have the skills, knowledge and confidence to be the best personal trainer they can be!
Start your new journey as a personal trainer today. Call ACFB on
1300 002 232

to find how this course can work for you!
Studying online
If you have a busier lifestyle, yet are motivated and good at managing your time, then our online program will be great for you.
You have an abundance of resources available. As you go though each Cluster, you complete the relevant theory assessments and once you are confident you book in for a practical demonstration. Your mentor is there to guide and support you throughout your studies
It's flexible and self-pace, and you can start straight away!
Duration – Between 6 to 18 months (Maximum Nine months per certificate).
With all of our delivery options or funding types, you will get 3 Post-Graduation Workshops included as part of the entire Personal Trainers Course!
Content
The following 2 courses and 32 units are included in this course:
SIS30321 Certificate III in Fitness
SIS40221 Certificate IV in Fitness
(SIS30321 Certificate III in Fitness)
| Unit Code | Unit Description |
| --- | --- |
| SISFFIT032 | Complete pre-exercise screening and service orientation |
| SISFFIT033 | Complete client fitness assessments |
| SISFFIT035 | Plan group exercise sessions |
| SISFFIT036 | Instruct group exercise sessions |
| SISFFIT040 | Develop and instruct gym based exercise programs for individual clients |
| SISFFIT047 | Use anatomy and physiology knowledge to support safe and effective client exercise |
| SISFFIT052 | Provide healthy eating information |
| SISCCRO001 | Plan and conduct recreation programs for older persons |
| SISXFAC001 | Maintain equipment for activities |
| HLTWHS001 | Participate in workplace health and safety |
| HLTAID011 | Provide first aid |
| BSBPEF301 | Organise personal work priorities |
| BSBOPS304 | Deliver and monitor a service to customers |
| BSBOPS403 | Identify risk and apply risk management processes |
| BSBWHS332X | Apply infection prevention and control procedures to own work activities |
| | |
(SIS40221 Certificate IV in Fitness)
| Unit Code | Unit Description |
| --- | --- |
| SISFFIT034 | Assess client movement and provide exercise advice |
| SISFFIT041 | Develop personalised exercise programs |
| SISFFIT042 | Instruct personalised exercise sessions |
| SISFFIT043 | Develop and instruct personalised exercise programs for body composition |
| SISFFIT044 | Develop and instruct personalised exercise programs for older clients |
| SISFFIT045 | Develop and instruct personalised exercise programs for adolescent clients |
| SISFFIT049 | Use exercise science principles in fitness instruction |
| SISFFIT050 | Support exercise behaviour change |
| SISFFIT051 | Establish and maintain professional practice for fitness instruction |
| SISFFIT053 | Support healthy eating for individual fitness clients |
| SISXFAC001 | Maintain equipment for activities |
| SISXCAI009 | Instruct strength and conditioning techniques |
| BSBESB301 | Investigate business opportunities |
| BSBESB302 | Develop and present business proposals |
| BSBOPS403 | Identify risk and apply risk management processes |
| BSBWHS332X | Apply infection prevention and control procedures to own work activities |
| CHCCOM006 | Establish and manage client relationships |
| | |
| | |
| | |
Throughout your Personal Trainer course, you will receive professional industry mentorship from expert trainers. To help keep you on track and to interact with other students, we offer an interactive student web page that provides you with easy access to course material, detailed films, student forums and assessment submission. This gives you the flexibility to study anytime and anyplace you choose.
Pre-requisites
Nil: There are NO pre-requisites or previous qualifications needed for you to enter this combined Certificate III & IV in Fitness course.
Practical Hours
A minimum of 70 hours of practical application which is made up of two (2) x work placements.
Recognition of prior learning (RPL) & Recognition of Current Competency (RCC)
If you have previous qualifications and/or experience that you believe cover parts of the course's current contents, please read carefully and complete the Stage 1 RPL/RCC Form below and send it to ACFB's Program Manager: [email protected]
SIS30321 Certificate III in Fitness – Stage 1 Cover Sheet
SIS40221 Certificate IV in Fitness – Stage 1 Cover Sheet
Relevant evidence must be provided to support your request for RPL.
Career Opportunities
Upon completion of the (SIS30321 & SIS40221) Certificate III & IV in Fitness course, you will have acquired the theoretical knowledge and practical skills necessary to qualify as a Personal Trainer. With the growing demand for personal trainers, as a graduate, you will be able to explore many employment options, including:
starting your own business
working in a gymnasium
coordinating recreational activities across organisations (e.g. corporate or public)
providing allied health assistance within sporting clubs (e.g. focusing on strength and conditioning)
What's more, you get to inspire and motivate people who are wanting to make positive health changes in their lives while you maintain your own health and fitness!
After completing ACFB's Personal Trainers course, you will be able to further your studies and enrol in the Bachelor of Exercise Science and/or maintain your continuing education and professional development requirements.
Accreditation
ACFB is a Registered Training Organisation through the Australian Skills and Qualification Authority (ASQA). This course is Nationally Recognised as listed on training.gov.au.
A previous recipient of the Victorian Small Training Provider of the Year by the Department of Education means studying with ACFB ensures you get the best possible training and education to start you on your personal trainer career!
Course Fees
ACFB offers very competitive prices for our award-winning training . Additionally, you may be eligible for government funding:
Skills First Funding – Click here to see if you are eligible!  Skills First Funding is provided by the Victorian and Commonwealth Government.
No deposit and Interest FREE instalment plans available – An easy way to simply put your course fees on an interest free instalment plan, starting from as little as $45 per week.
Contact ACFB on 1300 002 232 for more details